Dominique Moceanu
---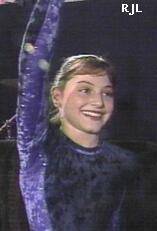 Lookey lookey, it's a little cutey. Why, it'd Dominique Moceanu. Hey, isn't she that beloved gymnast. It sure is. She's about to turn 16 and she's already hit the big time in the world of gymnastics. I have only on word for this, "Dedication!" Then some guy comes up to me with a low stuck up voice saying, "Wait a second, wait a second here, there are many girls her age hitting the big time in gymnastics. In fact, that's just about the average age for a girl to be in gymnastics." Well, this is what I say to that person. I just tell him to come here, get a little closer. I need to tell you something, c'mon closer, now listen to me okay, just listen. In fact, get a little bit more closer, get really close, I want you hear this okay. Alright, now listen to me okay, ju j just ju just listen okay, l l ll ll listen to me alright, you got that, just listen...I don't care!!!





Name:
Date of Birth:
Place of Birth:
Age:
Residence:
Dominique Moceanu
September 30, 1981
Hollywood, California
15
Houston, Texas
Height:
Weight:
Coaches:
4 feet 8 inches
72 pounds
Bela & Marta Karolyi


Dominique Moceanu, everyone's favorite gymnast has had a fantastic gymnastic career at such a young age. She has impressed millions of viewers at the Olympics and has won the heart of American's throughout the country (including me). Her personality is one to be commended for a girl of such a young age who has become one of the most famous gymnasts in the history of United States Gymnastics. Dominique has managed to maintain a clear view as to what she wants out of life and has not let fame effect her in any way. She is still a normal person with average wants and needs and is to be commended for keeping a clear head with so much fame. Her beautiful face, body and personality have together made her America's Sweetheart. She has the qualities which make America such a great country and will always be a part of all of us.

Dominique's performances include many different aspects in terms of presentation. She includes fun, excitement, technique, and style in each of her routines. Her main goals in each of the routines she does are to have fun and do the best that she can possibly do. Even if she doesn't win, she looks at it in a positive way which can be attributed to her personality. When she was at a younger age and started to win many championship titles, she did not let it go to her head. She set one goal to reach.......The Olympics. When won the opportunity to participate in the Olympic games, she was the gymnast that people expected to do the best and carry the team the furthest. She did not let the pressure go to her head and did her best. As a result, she helped lead her team to a team gold metal, the first ever won by the American gymnastics team. Even though she did not win an individual title, she said that that was OK and she was just happy she did her best and helped to win a team gold metal. Dominique has already won herself into the hearts of many Americans and a place in gymnastics history. We are proud to have her as a gymnast and will here nothing but good things about her in the future.







Go Back To The Main Page

-or-

Sign My Guestbook
View My Guestbook

You are number
to visit Dominique
---
[Home]
[My Place]
[Stories]
[Quotes]
[Tips]
[Friends]
[Arcade]
[Links]
[Sign My Guestbook]
[View My Guestbook]